We all know what today is. Therefore, I am foregoing the usual Action-Reaction and instead I am going to give you some suggestions on who the best people to celebrate today with are! Enjoy!
Well for starters, if you're in the Cleveland area, there is Kenny Wright....
...and if you prefer no-name defensive backs,
Willie Andrews
is another option...
...or for NBA players,
Keon Clark
seems to know what he is doing...
...and
Quincy Carter
has a bit of a history...
...Kellen Tillman from Texas Tech seems to enjoy the same thing...
...Damon Stoudemire and Rasheed Wallace are some notable names...


...ah, Jerramy Stevens, you're such a cool dude...
...
Theo Davis
and
Josh Heytvelt
like the stuff as well...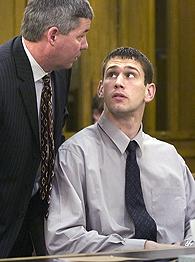 ...the Bengals and
Jonathon Joseph
are involved with a little something-something...
...and of course, the grandaddy of them all, Mr.
Ricky Williams
...
Thanks to TheSportsCritics for this info...